1935 – 1985
---
In the mid-1930's the local Breen family bought and demolished Matterson's Cellar, a former bacon factory, situated in the Glen, Waterford.
A new cinema was built on the site and it was called 'The Regal Cinema Deluxe', which was a state of the art cinema of its time.
The Regal had a seating capacity of 1,400.
The feature film on the opening night, February 7th 1937, was 'The King Steps Out', starring Grace Moore.
One of the famous live acts that appeared there in its early years of operation was the renowned Irish tenor, John 'Count' McCormack, in November 1938.
It continued to operate as a cinema with intermittent live entertainment right up to the 1970's but with the decline in attendances regular bingo sessions by then became it's mainstay until its total closure in 1985.

1985 – 1990
---
Waterford was continuously being bypassed by touring Acts, as there was no venue large enough with proper facilities to host them and it was to rectify this ommission that The Regal premises was purchased in 1985 from Ireland's main cinema operators, the Ward Anderson Group, who had acquired it from the Breen family, by a locally owed company, Coherent Enterprises Ltd. (Directors: Ciaran O'Neill & Siobhan O'Neill), who still own and operate it today. The O'Neill's ran entertainment, including bingo, from 1982 to 1990 in the Savoy, an other former cinema premises in Waterford city.
Over a five year period the outdated Regal premises was totally gutted out, with only the bare outside walls and roof remaining in use by the end of the renovations.
A new, much larger, balcony was added, as well as a stage area and a side extension was provided with greatly improved customer facilities.
The newly designed Art-Deco style facade, by local Architect Paddy Nolan, won Waterford Corporation's 'Best Newly Decorated Building Award' in 1988.
Transformed into a 1200 seated modern entertainment venue, The Forum opened on April 1st 1990 and the official opening, with a large number of distinguished locals invited, was held on 14th July 1990 with guests treated to a concert preformed by Waterford born international star, Val Doonican.
The 1200 seats, based on those used in the national Concert Hall, Dublin because of their acoustic qualities, were made by local cabinet maker Harry Smith.

1990 – 2000
---
The following decade, while running bingo sessions several nights weekly, The Forum played host to major internationally renowned live acts including Johnny Cash who appeared with Kris Kristofferson, The Corrs, David Gray, Van Morrisson, Billy Connolly, and many more.
In May 1992 one of the then Government coalition parties, The Progressive Demographics (PD's), led by Des O'Malley, held their annual conference in The Forum and much of it was broadcast live on RTE radio and television.
In 1993 The Forum was the first venue in Ireland outside Dublin, Cork and Limerick to be granted a 'Theatre Licence' by the Revenue Commissioners, which meant it was licensed to serve alcohol whenever the premises was being used for public entertainment.
The 'Gallery Bar' was constructed in the upstairs portion of the side extension, adjacent to the balcony and it was officially opened on 3rd September 1993 by that year's Eurovision Song Contest winner, Ireland's Niamh Kavanagh.
Late night clubs were started there in 1993 and have been run ever since on weekends.
In 1998 'Prendervilles', the adjoining public house was acquired by Coherent Enterprises Ltd. and it continued to be run as a pub, firstly called 'Bricken's Glen' and later on 'The Glen Tavern'.

2000 – 2005
---
During the millennium year, after extending the adjoining premise's 'Publican's Licence' to cover The Forum, material alterations to the existing building took place which changed the use of the ground floor from a fixed seated Hall to a more adaptable function room with it's own bar, which could still have all seated shows as well as host big standing gigs (acts such as Scissor Sisters appeared there) and also be used as a function room (where even some weddings parties celebrated their big day). It was named the Regal Room.
Construction of a large new stage and dressing rooms also took place and the whole premises was re-roofed.
Downstairs and upstairs were totally separated with the closing in of the space in front of the balcony and this created a large area upstairs which was turned in to a stage and the 300 seater Gallery Theatre was created. Local companies such as 'Red Kettle' ran several drama and musical productions there.
Bingo continued to be run by the Company, for the 6 months works duration, in the nearby former Metroland premises which had been closed down a few years previousely. That premises has since been demolished and rebuilt as a hotel.
In 2001 Waterford's first independent off-licence was added on to the Forum premises, next to The Glen Tavern, which became one of the 'Next-Door' Group off-licence's.
Also in 2001 The Glen Tavern pub won a Waterford Corporation award in the 'Best Pub Frontage Category'.
In 2003 the off-licence won the prestigious 'Next Door Off-Licence Of The Year Award'.

2005 – 2010
---
In 2005 The Glen Tavern Bar was closed and the adjoining 'Next-Door' off-licence was greatly expanded to over treble its previous size, to become the most modern, as well as largest, 'Next Door' Group off-licence. It opened in August 2006.
The ground floor Forum area was again extensively refurbished in 2007 to become a modern Irish style designed 170 seater restaurant, with a small stage built for live entertainment. A fully fitted out kitchen was added where the stage had been. Opened in November 2007 it was named as 'Divine, Food & Wine'. Due to the recession hitting the hospitality industry particularly hard and without having had a chance to build up the business, the restaurant was closed just over a year later and it was then operated as a second more intimate venue, the Forum Lounge.
The Forum Venue, upstairs, had it's facilities updated in 2007, with the fixed seating removed and a far bigger new bar constructed, new passenger lift installed, new toilet area provided and a new facade was added. A large Venue space was created which can cater for up to 1000 patrons.

2010 – 2014
---
Forum Waterford continues to offer diverse entertainment weekly, in the Forum Venue and the Forum Lounge (including regular bingo sessions), as well as providing a well stocked off-licence store, where value and personal service are it's hallmarks.
2014 – Present
---
Forum Waterford constantly strives to improve its offerings and will never rest on its laurels so watch this space as Forum Waterford just never stands still.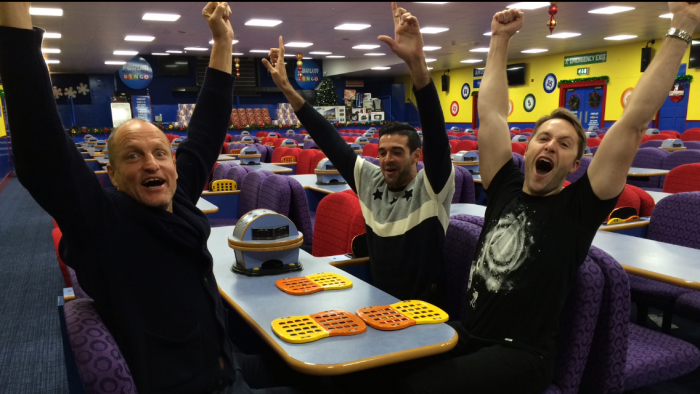 Woody Harrelson and Keith Barry get lucky at Forum Bingo