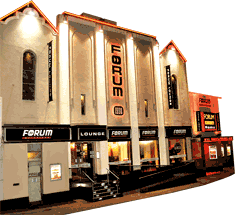 Forum Waterford, the premier entertainment venue in Waterford City, Ireland, offers a diverse range of entertainment and events weekly and also operates an off-licence.
More About Us
Upcoming Events
Damien Dempsey
& Support Friday 28th Nov
Doors 8:00pm - € 20.00
Shortts Live Music Venue
Declan O'Rourke
Saturday 6th Dec
Doors 8:00pm - € 19.50
Shortts Live Music Venue
Dave Clarke
Saturday 13th Dec
Doors 11:00pm - € 15.00
Crystal Club
Wrestlemania 31 Party
Sunday 29th Mar
Doors 9:00pm - € 12.50
Mount Sion Centre
View TKTS Waterford Listings
Waterford City Info
Photo Albums

Have a look through our past events and maybe even try to find yourself
Forum Bingo

CASH BINGO
Sun/Tues/Thurs 7.30pm - Opening
8.20pm - Early Bird
8.30pm - Main Bingo
10.05pm - Finished
close [x]
Forum Newsletter
Why Should You Subscribe?

As a member you will receive regular newsletters, mailed straight to your inbox, with announcements (be the first to know), updates and details of upcoming live music, comedy and other events for Waterford's premier entertainment venue, Forum Waterford.
What's more you will be eligible to enter competitions, open exclusively to our members, to win free tickets for Forum gigs.
Join our weekly newsletter
Why Join?